All of our foods should come like this syrup does: simple, handmade, and delicious. This Blueberry Syrup is made from three ingredients: blueberries, pure cane sugar and lemon juice. It is handmade in small batches by a company called Blackberry Patch.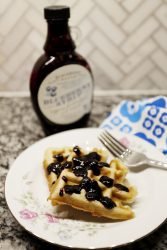 Founded by farmers in 1988 the Blackberry Patch makes small batch, high-quality, goods using real fruits and family recipes. This yummy syrup is handcrafted in Thomasville, Georgia along with rest of their line of jams, jellies and syrups. Did we mention a portion of their profits go to charity?
One thing to note is this syrup is very thick. I recommend heating up some on the stove first. I found this at my local Publix, but you can also buy this on their website. I'm looking forward to trying their Apple Butter Syrup or their Maple Praline Sugar Free Syrup next.