Interested in updating one you you most used pieces of furniture to your new found green lifestyle? For about $250 you can have a beautiful organic bamboo desk!
It's not the sleekest design I've ever seen and at $250 for a desk, that's a higher price point than most of us would ever consider.
But consider the value behind the $250 before you decide if that is beyond your walet forever.
* **Solid bamboo = desk is strong**
Bamboo is one of the strongest building materials, it's tensile strength is 28,000 per square inch versus 23,000 per square inch for steel
* **Tool less assembly**
The desk uses a tab / slot design to put the desk together like a puzzle, testimonials on the site actually describe it as fun to put together.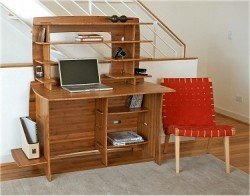 Don't forget that a tab / slot design would be easy to disassemble. If you have to move you don't have to move the big clunky desk the same way you have to move your dressers and couches – you can easily disassemble it and not worry about losing screws or weakening the structural integrity when you reassemble it in your new home.
**Detail Photographs**
This is a product I will highly consider the next time I am in the market for a desk. Bamboo is great sustainable and durable building material! I also like the way it has 7 additional (and optional) pieces to customize the bamboo desk to your specific needs. maybe you need a little more space, or you want to connect it to another bamboo desk.
You can read more about the [organic bamboo computer desk](http://www.abundantearth.com/store/OrganicBamboo48Desk.html) at [Abundant Earth.com](http://www.abundantearth.com/store/OrganicBamboo48Desk.html)