Ever get lost when picking out printer paper? Even with an Inkjet Printing Class from art school under my belt I still get perplexed when it comes to picking out everyday printing paper. There's not a lot of recycled paper options, but if you want an eco-friendly paper that can keep up with the standard ones I'd recommend: Staples 100% Recycled Multipurpose Paper.
##About the Paper##
24lb.
95 bright (US)
Letter size
500 sheets / ream
I've tried other recyclable printer papers that were just WAY to flimsy for inkjet printing. With my Epson Artisan printer the double sided printing seems to work great with this paper. The weight of it held up, and there was no curling or jams with my printer.
I seriously love this paper. It comes with a higher price tag ($12.99), but the weight of the paper is just right, along with the "brightness" of the paper. You can't beat eco-friendly paper that's also acid-free and archival safe (this is very important to me, being a photographer). The only downside to the paper is the packaging: It comes in a plastic wrapper that is recyclable, but being a #5 plastic it's very hard to find a facility that will recycle it.
The last facts about the paper and the most important: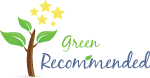 Staples 100% Recycled Multipurpose Paper gets the Green Recommended seal of approval! We use them in our day to day lives – you should too!