You may have already heard of these 16 stamps issued by the U.S. Postal Service. These stamps feature tips on how Americans can "go green," but have you really looked at them? Some tips are ones that most of us already know and implement into our daily lives Recycle more and Plant trees. Some we should really have a go at: Maintain tire pressure1 and Fix leaks.
One fabulous thing about these stamps: they are forever stamps, and no matter what price changes happen at the post office these are still good to mail a 1oz letter. On top of that the stamps are recyclable.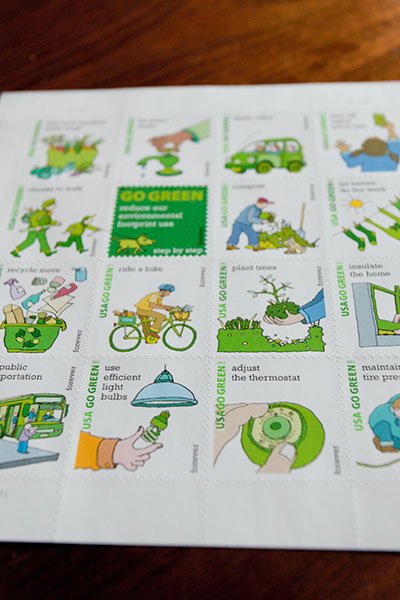 The post office has even put some of their ways to "go green" into their own practices.
###Post Office Going Green###
Post Office is a recognized environmental innovator and leader and has won many major awards.
20,000+ post facilities are recycling
First federal agency to publicly report its greenhouse gas emissions.
Even have mail-back programs for electronic and other items so they get properly and safely disposed of.
Post Office has a handy page on tips about to stay green when it comes to mailers.2
——————————-
1 For beginner information on maintaining tire pressure check out Gear Garage