Whenever I thought about handkerchiefs I imagine my Grandfather and his hankie that he used to blow his nose into and hack into all the time – it grossed me out.
I was 10. A decade later as I started to take a look at how environmentally friendly my decisions were I started to reconsider. After a nasty bout with a cold I had a sore nose – I found some great natural solutions for my dry nose but could the dry nose have been avoided by not using 1,000,000 facial tissues?
**Yes**. In a recent purchase from [Lunapads](http://www.lunapads.com/) I ordered a few [small Organic cotton handkerchiefs](http://www.lunapads.com/product.aspx?ProductID=61&deptid=6&) and contacted Lunapads customer support about the use and care of this **reusable facial tissue**.
One of their support staff, Sandra Allen, was quick with a response to me. I just asked her what was on my mind and after I read her response the first time I needed to blow my nose **it felt right in that cotton hankie**!
She assured me the following is the case with handkerchiefs:
* They aren't going to leak snot everywhere or into your clothes in the wash
* If you have a cold you will produce more mucus and might want to rinse your hankie in warm water and hydrogen peroxide to keep it naturally fresh and white
* Just toss it in your pocket – use it – the toss it in your laundry. Then repeat!
———————
##Handkerchief Q & A With Sandra Allen of Lunapads##
###Are there a lot of germs in my snot and boogers (aka mucus)?###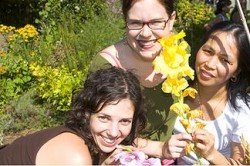 **Sandra**: I did a bit of reading and generally snot is produced to help keep the respiratory system free of germs. *The time when it may have germs in it is when you are catching a cold*. In that case I would soak them in hot water and add some hydrogen peroxide. But generally a hankie is a personal item that is used only for you so **they're your own germs**. Check out Wikipedia's definition of mucus: or do some Google searches to read more about it. I am all fascinated by our wonderful mucus-producing bodies now that I've done some reading up on the subject!
###What should I do with dirty or used reusable handkerchiefs when I'm not at home?###
**Sandra**: I personally just keep them in my pocket or bag, the snot really doesn't go anywhere and unless you've got a bad cold it'll be minor what comes out.
###What's a good solution to keep clean handkerchiefs separate from dirty in my pockets, handbag, desk, or home?###
**Sandra**: Again, you don't need to be so particular about it. I usually only have one hankie on me during the day, but sometimes I'll keep a folded one in a pocket of my bag/purse. The used hankie can just be kept in your coat or pants pocket, always turn the snot part inwards and it won't get anywhere. But we do have these cute little pouches – the [Luna Pouch](http://www.lunapads.com/product.aspx?ProductID=154&deptid=6) (nylon lined!) or the [Pochette](http://www.lunapads.com/product.aspx?ProductID=155&deptid=6) (pictured below) that you could use to store your hankies in.
**Terri (me)**: I had to let her have that little sales bit 😉 It's just how I roll!
###Should I soak my handkerchief first to make sure the snot doesn't get all over my clothes?###
**Sandra**: Unless you've got a cold (and therefore more snot!) you can just throw them straight in to the wash, no need to pre-rinse but you can if it makes you feel more comfortable.
###How can I soak, pre-wash or clean a handkerchief?###
**Sandra**: I'd just soak them in water, but if they seem little dirty then add a bit of hydrogen peroxide or a product like oxy-brite which are both natural bleaching agents. It'll help keep them a nice cream-white and won't damage the fabric or the environment.
###Are you *sure* it won't get on my clothes if I wash them in with my regular laundry?###
**Sandra**: It won't get on your clothes. I promise you won't even be able to tell you had snotty hankies in with your laundry if you do combine them. **Once you start using hankies you'll be amazed at how the snot just kind of disappears** in the fabric.
**Terri (me)**: And yes, she does mean the "fabric of the handkerchief!"
—————
Additional photo from the [Lunapad website](http://www.lunapads.com/aboutus.htm) (that's Sandra on the left.)