Valentines day is less than a month away, if you're shopping for your environmentally conscious girlfriend or you want to look sexy for you eco-hero boyfriend this is the Valentines Day to do sexy right – by the earth's standards.
Here's our top picks for Valentines Day 2009 – Be sure to order your Internet purchases early to ensure delivery by Saturday, February 14th 2008!
###BambooDreams Cleo Gown by DreamSacks, Inc###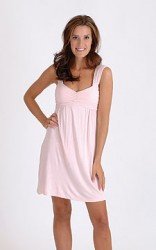 This lovely nightgown is an empire waist, tank top that comes just above the knees. Made from 85% pesticide free bamboo – a sustainable and renewable resource. A beautiful cozy nightgown is a great deviation from PJ pants and will get much more wear for you dollar! Make every night as sexy as Valentines Day! Available in 6 colors, from small to x-large.
**Price**: $57 USD
[Available from Dreamsack.com](http://www.dreamsack.com/store/product.php?productid=61&cat=5&page=1)
###Perfectly Imperfect Organic Cotton Lace Nighty###
A beautiful imperfect gown – it's fitted through the bodice with adjustable straps. Made from 90% Organic cotton the contrasting lace adds beautiful detail in numerous shades. The line is inspired by the wabi sabi way of life, an ancient Chinese philosophy for thos who like fresh simplicity and rustic natural beauty. Available in 5 colors, from small to large.
**Price**: $62 USD
[Available from TheGreenLoop.com](http://www.thegreenloop.com/ProductDetails.asp?ProductCode=PI-LACENIGHTY)
###O Girl Babydoll###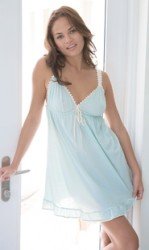 Soft, delicate with all the bows, frills and lace a girl loves. An eco-conscious girl will love that it's 100% Organic cotton jersey. As seen in Lucky Magazine in December 2008. Available in 2 colors, from small to large.
**Price**: $57 USD
[Available from Eberjey.com](http://eberjey.com/shop/p-S771.html)
###Mya Underwear by g=9.8###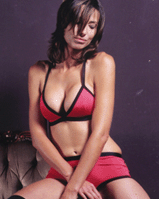 This hot bra and boxers set is made from ultra soft recycled white pine-tree pruning. Available in red and blue using low impact dyes. Sizes A-C and small – large.
**Price**: Separates are 38.95 / 21.40 ea. EU
[Available from By Nature](http://www.bynature.co.uk/erol.html#24199×0)
###Bedrock Betty Chemise by Enamore, Ltd.###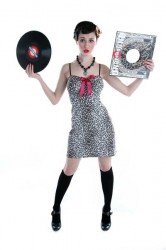 How about some Flintstones for Valentines Day? This racy number is made from soft bamboo leopard print jersey with delicate details and a pink bow to complete the look. Get some animal on in the bedroom! Available in sizes small to x-large.
**Price**: 75 EU
[Available from ENAMORE, Ltd.](http://www.enamore.co.uk/onlineshop/product_info.php?cPath=1_117&products_id=929)
###Camisole & Boy Short Set by CEL Lingerie###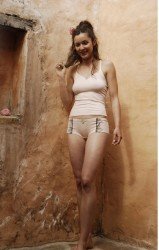 This hot two piece is fair trade friendly 95% Organic cotton. The French embroidered lace accents perfect the pieces with beautiful detail. She can be comfortable and sizzle in this machine washable number! Available in two colors in sizes small to large.
**Price**: $155
[Available from Noblivity.com](http://www.noblivity.com/p164/Camisole-&-Boy-Short-Set/product_detail.html)
###Sleeper Set###

Simple can be sexy too! This cozy two piece sleeper set is made from Organic cotton with adorable ruffled edge accents. Available in black in small and medium sizes.
**Price**: $54 (marked down from $90 thru Jan 31)
[Available from Kaight](http://kaightshop.com/sleeperset.html)
###Lacey Set Handmade by Urban Fox###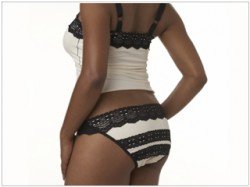 A sexy two piece – this perfect pair features wide lace details and a perfect unfinished touch. Adjustable or silk ribbon straps tie options at the shoulder and the lace detailed panties have extra tiers of wide lace across the bum. Too cute! All of it is sewn by hand using Organic cotton and bamboo blends. Available in sizes small – large.
Also check out their [stocking and garter panties](http://www.urbanfoxeco.com/test_cart/index.php?main_page=product_info&cPath=3&products_id=13&zenid=086a789f029e47995c06908f877e68bd) sets that would compliment the lacy cami look perfectly!
**Price**: $85 Cami set / $75 Stocking set
[Available from Urban Fox xoxo](http://www.urbanfoxeco.com/test_cart/index.php?main_page=product_info&cPath=3&products_id=12&zenid=086a789f029e47995c06908f877e68bd)
###Green Knickers###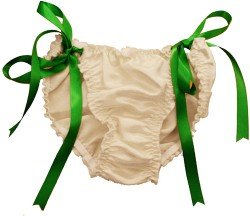 These adorable panties are one size fits all with adjustable straps. They are low carbon, 100% recycled, with Organic cotton gussets. Each pair is unique and their site has a number of different colors to chose from. Each order includes an optional fair trade, recycled gift box. Guys, you can't go wrong with a one size fits all gift! Just find a cure simple organic cotton cami to go with it and you've got a beautiful set.
**Price**: 15 EU
[Available from GreenKnickers](http://www.greenknickers.org/php/selected.php?Submit.x=93&Submit.y=42&rn1=54#)
###Victoria's Secret Organic Cotton Wireless Bra and Hip Huggers###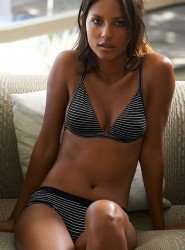 Victoria's Secret is starting to get into the Organic game and this new set is beautiful. In the past they have typically stuck to Organic cami, panties and shirts, but this bra is adorable. It's refreshing to see them continuing to step into the Organic cotton apparel market. I own a number of VS Organic cotton cami's and panties and i love them. I prefer them over all the other bottoms I own! There's two matching prints for the set and it's available in x-small – large.
**Price**: $26 USD Bra / $10 USD Hip Huggers
[Available from Victoria Secret Online](http://www2.victoriassecret.com/commerce/onlineProductDisplay.vs?namespace=productDisplay&origin=onlineProductDisplay.jsp&event=display&prnbr=9H-234751&cgname=OSKEYBRPZZZ&rfnbr=2991)
##More Ideas?##
Got any other ideas, post 'em in the comments! Don't forget to find ways to jazz up boring lingerie you already own, a little lace, bows and some [ruching](http://www.essortment.com/hobbies/sewingtipsruch_shiv.htm) will spice up any piece.