A carpet are undoubtedly a piece of furniture that gets the heaviest use and requires more maintenance that let's say a sofa or a set of wooden chairs. There are many synthetic chemicals and solvents that are used for cleaning carpets, and many of them can be related to health issues like liver and kidney damage and cancer. Some of them can cause nausea, dizziness and fatigue if inhaled or ingested.
What's more, various environmental agencies are warning against detrimental effect of chemical solvents on the human nervous system. In addition, not only do these chemicals pose a direct threat to public health, but they also pollute soil and water if they are not properly disposed.
Cleaning Chemicals as Pollutants
The health impact of various cleaning products has seen much public debate and awareness in recent years. This also implies of products used for cleaning carpets. During the cleaning these product release vapors in the air, which can be ingested or inhaled afterwards irritating the skin or eyes. Not to mention babies and pets that like to play on clean carpets. The number of reasons for non-toxic carpet cleaning chemicals is growing.
Green Alternatives
This awareness has conditioned manufacturers to come up with more eco-friendly cleaning solvents and formulas. You can even make some of them at your home. A mixture of vinegar, water and baking soda works great for removing stains. According to reputed online vendors of rugs, baking soda combined with essential oils can be used as a carpet freshener. Alternatively, you can find a number of natural cleaning products in stores, and the majority of them is based on plants.
Healthy Cleaning Habits
Of course, environmentally-friendly carpet maintenance does not involve only cleaning products. If you want a safer home for your family, and especially your children, you must develop and adopt healthy home cleaning habits. These include frequent and careful vacuuming, which should be done at least once a week. Thorough vacuuming removes deeply embedded dirt and dust that can damage the carpet fibers, and altogether reduces the need for carpet cleaning products. Besides, now you can choose from a wide array of sustainable flooring options like, carpets made of recycled materials.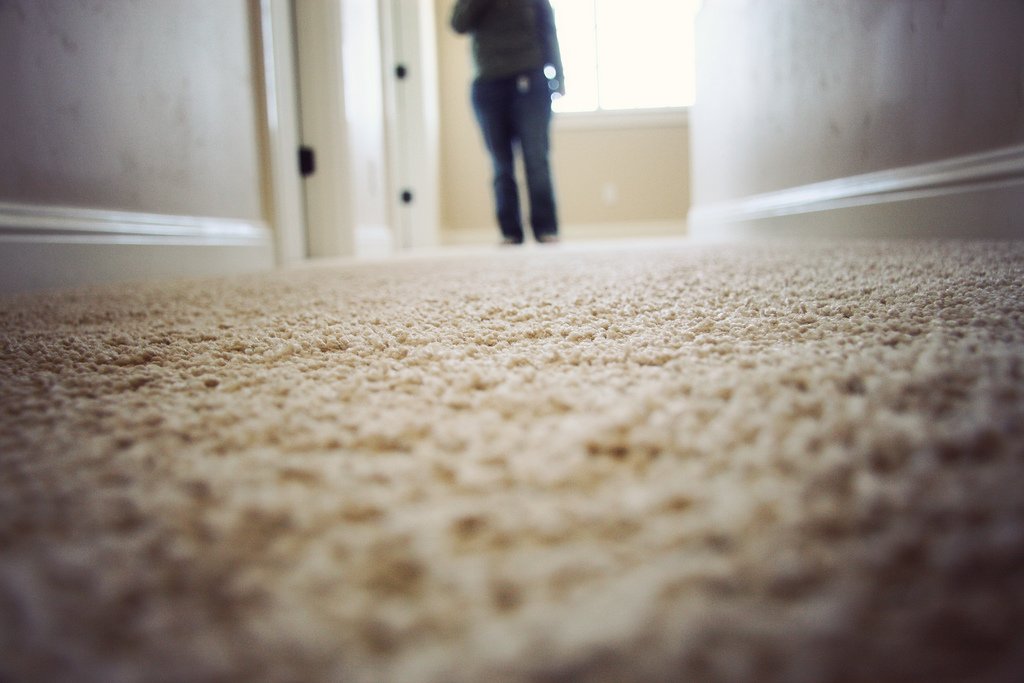 Photo by Ali via flickr used under the Attribution-NoDerivs 2.0 Generic
Support Environmentally-Friendly Businesses
The increased environmental awareness has inspired some cleaning companies to exclude toxic chemicals in their daily use and switch to natural options, contributing more to the sustainable living. Whenever you decide to hire a professional service to clean your carpets, you should have that on mind. Luckily those cleaning companies are mostly local-based businesses, and finding about eco-friendly ones shouldn't be difficult.
Eco-friendly companies are not only those which avoid using toxic solvents, detergents and enzymes. Their business philosophy should also include consuming less water and including wastewater treating systems. Carpet cleaning wastewater has to be filtered or treated for contaminants before being released in the drain. If you want to contribute to nature and health preservation in more than one ways, support the cleaning businesses which comply with these standards.
---
Author Bio: If one thing is true about Lillian Connors, her mind is utterly curious. That's why she can't resist the urge to embark on a myriad of home improvement projects and spread the word about them. As the Co-Editor at SmoothDecorator, she cherishes the notion that sustainable housing and gardening will not only make us far less dependent on others regarding the dwellings we inhabit and what we eat, but also contribute to our planet being a better place to live on. You can check her out on Twitter and LinkedIn.