I had to run some errands the other day and while I wandered around CVS I noticed I didn't have my usual lip balm in my pocket so it was a great day to try out something new.
I grabbed the Vickery & Clarke Intensive Lip Treatment (95.75% natural) and the Intensive Moisture Lip Balm (94% natural).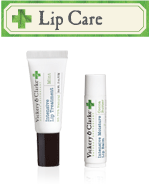 Both are fabulous.  The Lip Treatment is more of a gel and comes in a refreshing mint flavor.  It's great on chapped or split lips – it provides plenty of moisture and a great barrier from cold winds.  The Intensive lip balm is a cocoa butter flavor which is sweet and smells heavenly – like cookies or cakes or some sort of dessert.  the best part is is that it is flavor less – so your nose gets a treat without making your lips smack off all the balm.
About Vickery & Clarke
Inspired by Alice Vickery and Isabella Clarke, who broke new ground for women as pharmacists in the 1800s, Vickery & Clarke Natural Apothecary products are simple, effective remedies made with over 94% natural ingredients.
Vickery & Clarke Natural Apothecary products are made with natural ingredients:
Paraben free
Sodium Lauryl/Laureth Sulfate free
Phthalate free
Petrolatums free
UPDATE – As of December 2011 Vickery & Clarke products seem to be no longer available for purchase.