When I launched Green Behavior onto Twitter (@[greenbehavior](http://twitter.com/greenbehavior)) I found an interesting Twitter follower, @[saveessentials](http://twitter.com/saveessentials). It's a PR guy letting us know that Arm and Hammer is looking to cut Essentials cause there's no one buying it.
Why buy it?
* It's a great product that **really works**
* Less packaging = less weight = less transport cost = *smaller carbon footprint*
* Why waste bottles – reduce and reuse.
Video via the [Save Essentials Campaign](http://saveessentials.com/)
———————–
##Cleaning with Essentials##
I grabbed the multi-surface cleaner and went to town cleaning and testing for y'all. I picked a good and dirty place to clean: **my best friend and boyfriend's condo kitchen**.
The kitchen looked and smelled clean once I was done – the multi-surface cleaner cut through microwave grease and baked on stove top goodness. The faucet sparkled and the glass was streak free and see through (again.)
A&H Essentials get the
Green Recommended
seal of approval! I'm sold on this product – give it a try!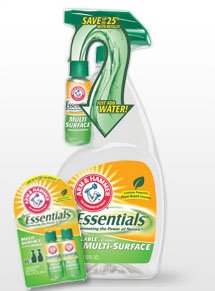 ##About Essentials Multi-Surface Cleaner##
* Cleans without streaks
* Uses plant-based cleaners with other biodegradable cleaners derived from coconuts and palm kernel
* Effective and safe, When used as directed — with no ammonia or phosphates
* Light, fresh scent — no harsh chemical fumes
* Refill 2-pack uses 80% less packaging than 2 pre-filled spray cleaners
**Safe and Effective Cleaning – the Multi-Surface Cleaner Works Great On**
* Counters
* Appliances
* Sinks
* Kitchen & Bathroom Tile
* Glass
* [And more](http://www.armandhammeressentials.com/)!
**[Register to Get Essentials Coupons here](http://www.armandhammeressentials.com/coupons.aspx)**
—————————-
**Featured on** [saveessentials.com](http://saveessentials.com/2008/12/green-behavior-sings-songs-praise/) 12/23/2008