Every time I hit the stores I poke around to see if I can find any new organic, green or natural products I didn't know existed. The other day I was at the grocery store and I saw some body butters with packaging that caught my eye.
Their clever packaging with hand drawn retro pinups girls give an old Americana feel to a fresh 72% organic product. Their packaging has been recognized by the NACDS in Boston in '06 and '07 for best packaging and their products can also be purchased at some retail locations without the unnecessary cardboard packaging.
All of their products come in 4 fun fresh scents:
* **New York Cheesecake with an Edge**
Scented with vanilla and strawberry
* **Toast to the Coast**
Scented with ocean and grape seed
* **Southern Belle**
Scented with peach and mango
* **Vermont VaVa Voom**
Scented with green apple, maple and blueberry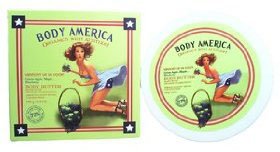 The lotion comes in a tin or pump – I prefer a pump. At first the body butter appears a bit greasy but locks onto your skin and is absorbed in seconds with no greasy residue – leaves you feeling fresh for hours. It feels extra good on fresh shaved legs since it contains no alcohol.
Body America Body Butters get the
Green Recommended
seal of approval! We use them in our day to day lives – you should too!
I am now in love with the Body America Organic – Toast to the Coast Body Butter. Though part of it might be a scent memory there's something about Toast to the Coast that sends me back to my Gram's beach house as a kid.
You can buy [Body America](http://bodyamericaorganics.com/) products online on amazon (see above) or in stores such as Target, Price Chopper and PRice Rite.