There's a great Dirty Jobs episode on the Discovery Channel where Mike Rowe goes to Terressentials in Maryland and makes and gets his hair washed in organic shampoo. I must divulge that I love Mike Rowe (my boyfriend is often jealous) so I hopped on their website and online store, [Terressentials.com](http://www.terressentials.com/), to see what they had to offer!
The first order I made included the [Fragrance-Free Facial Care Sampler](http://www.terressentials.com/fffacialcare.html#sampler). I've often had problems with scented products so I figure since my face doesn't need to smell good: fragrance free would be my best route.
The samples are small but they go a long way, I used my sample package for a bit over 2 weeks, anywhere between 1 and 3 times a day. The bottles are small but the recommended amounts to use are very small as well – good things really do come in small packages.
##Fragrance-free Organic Facial Cleanser & Toner##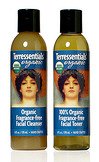 Of the four items in the sample pack these two items: the [fragrance-free organic facial cleanser](http://www.terressentials.com/fffacialcare.html#ffcleanser) and [fragrance-free organic facial toner](http://www.terressentials.com/fffacialcare.html#ffcleanser), have made me a **loyal Teressentials fan**.
I've had a hard time with my skin in my early 20's to the point where I considered using some of the prescription strength systems but the responses I read in blogs to such systems were overwhelmingly negative. So I started trying new face washes and low and behold the first organic one I tried I fell in love with.
The Terressentials fragrance-free cleanser and toner are USDA Certified Organic. They're for all skin types and the naturally gentle cleansing power of these two are just what your face wants.
I've been using the face wash 2, sometimes 3 times a day and the toner at least once a day and I have never been happier with my skin. I have seen a drastic reduction in breakouts and my skin feel softer and battles the New England dry winter weather very well.
I've noticed my skin even out a bit and I don't ever feel the need to use harsh scrubs to "exfoliate" like I had before.
The best part – **Terressentials is affordable organic**. Their products might seem pricy per bottle but when you usee only the recommended amount your bottles will last a long time!
Terressentials fragrance-free skin care line gets the
Green Recommended
seal of approval! I wash my face daily with it!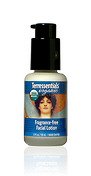 ##Fragrance Free Organic Facial Lotion & Moisture Cream##

The other two products in the sampler [fragrance-free organic facial lotion](http://www.terressentials.com/fffacialcare.html) and [100% organic fragrance-free moisture cream](http://www.terressentials.com/fffacialcare.html), were a great compliment to the cleaners and toner. The Moisture cream is perfect to naturally soothe a dry nose during a cold and the facial lotion provides the moisture locking I look for in a moisturizer without a lot of weight or scent.
——————————–
##More USDA Organic Face Care Options by Terressentials##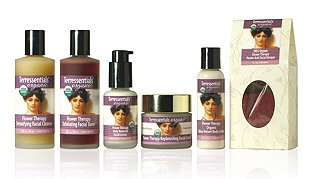 Terressentials also offers a [flower therapy organic skin care system](http://www.terressentials.com/facialcare.html) that I may try next order now that my skin feels more balances than my pre-teen days!
If you've used any of the Terressentials face care lines let me know what you thought otherwise – get to ordering! You won't regret it.