I stopped at Walgreens earlier this week to pick up a prescription and found all the holiday gift packs on sale. Amongst them a green product that caught my eye.
I snagged a 5 brush set of EcoTools makeup brushes and bamboo holder for $5 usd in a post-holiday gift set sale. I've been using the brushes ever since and I love them.
Even when not on a super duper clearance EcoTools' makeup brushes and bath products are really affordable. The powder brush is only 7.99 usd, the blush brush 6.99 usd and the eye shading brush only 3.99 usd.
I've use cheap drug store makeup brushes in the past and those end up in the trash quickly. I also own a number of MAC brushes that I adore and would highly recommend to any woman looking to play up her makeup a bit.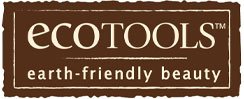 Even beauty blogs picked up on [these great brushes](http://15minbeauty.blogspot.com/2008/03/ecotools-cosmetic-brushes.html) earlier this year noting, as I did, that the brushes were not like those other synthetic brushes you've used before.
> This earth-friendly brush set is packed with the 5 high-quality brushes you need to look beautiful.
**What makes EcoTools Makeup Brushes green??**
– Bamboo handle has a low impact on the earth's resources as it is a highly sustainable plant that can grow up to 4 feet daily
– Synthetic taklon bristles are made from soft and pliable synthetic hair and are 100% cruelty free.
– Sleek ferrule (silver band that holds bristles) is made from recycled aluminum.
– EcoTools utilize resources that minimize the negative impact on the environment
– EcoTools (a product of Paris Presents) is part of the [1% for the Planet program](http://www.onepercentfortheplanet.org/en/search/member_profile_page.php?id=840)
————————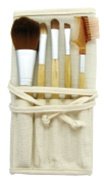 They often come in very un-green, PVC packaging and while noted in last months' post on [treehuger](http://www.treehugger.com/files/2008/11/ecotools-makeup-brushes-for-your-ecofriendly-makeup.php) the company states they use the acid-free PVC packaging with plant-based inks intending the consumer will use it to protect the brush or a great case to use when traveling or on-the-go.
You can get a set of 5 brushes inside a natural cotton and hemp case. Which might be more along your green lines of 'reusable packaging' standards.
The gift set I purchased with the bamboo cup came in recyclable plastic and cardboard – so maybe in the future we will see this company use greener packaging solutions and let us buy a vinyl case on our terms only.
I can't fault a company for not going 100% with their products or product lines. As far as I'm concerned it's always better to start getting green then wait till it's convenient to go 100% green. **Do what you can – to go as green as you can – now**!
We give the
Green Recommended
seal of approval! I love using these brushes every time I put my makeup on.
##More Info##
– Learn more about [ecoTools](http://www.eco-tools.com/)
– Buy ecoTools at [Walgreens](http://www.walgreens.com/store/productlist.jsp?CATID=100290&selectedBrand=308445)
– Buy ecoTools at [Target](http://www.target.com/gp/search/184-0132254-7258442?ie=UTF8&search-alias=target&index=target&field-browse=1038576&ref=sr_bx_1_1&viewID=drill-down&field-original-keywords=ecotools&store=&field-keywords=eco%20tools&page=1)