Other than my office my favorite thing to buy products for is the kitchen. Green products are becoming more and more readily available at stores we shop at everyday and at prices we can afford so what's your excuse for not going green? At your local grocery store I'm sure in the aisle with all the kitchen gadgets and tools you will find Eco-friendly products like the two I'm going to feature in today's Green-Behavior product reviews. The first is TruBamboo's 100% recyclable cutting board. It has all the features you want from a cutting board and did I mention it's bright neon orange? Another Eco-friendly product for the kitchen I fell in love with is Core Bamboo's Comfort Grip Crushed Bamboo Utensil with silicone grip (this one has a bright green grip). Read about them below:
##About TruBamboo##
They have been manufacturing Eco-friendly products since 2003 and have over a hundred items distributed across the world. They harvest their materials from one of the largest bamboo forests and create what is considered by them "World's Finest Bamboo Products." TruBamboo's cutting board is made of High Density Polyethylene (HDPE) which won't chip, peel, crack or dull knives.
##About TruBamboo 100% Recyclable Cutting Board##
nonporous and easy to clean
dishwasher safe
made with FDA approved material
BPA Free Plastic
You can read more about this company and this product at TruBamboo.com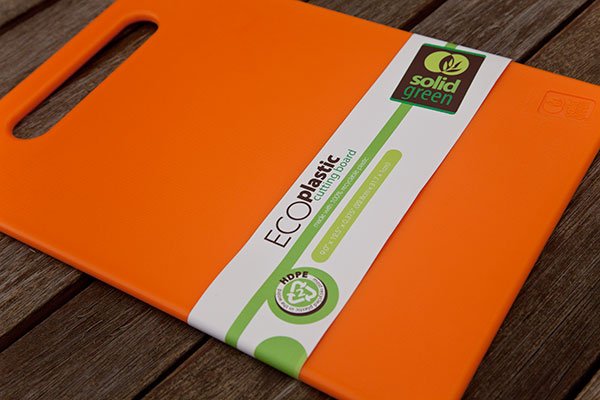 —————————-
##About Core Bamboo##
Core Bamboo also makes some of the "Worlds Finest Bamboo Products," from cutting boards & utensils to bowls. All bamboo is 100% organically grown and FDA approved. This utensil has a totally different look from most bamboo products you see out there, because it's crushed bamboo (which is now my new favorite type of bamboo). All products are hand made by Core Bamboo's 2000 artisans that are located throughout the world.
You can read more about this company and their crushed bamboo products at Corebamboo.com